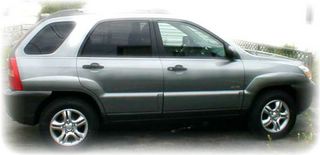 Start having A...Great life.
I wish I knew how to add the music from the commercial here. No copyright infringement is intended of course. I just want to brag about my new baby, and I keep hearing the commercial in my head every time I get in her.
I call her, Allia the Kia. I know - not that great - but you find something that rhymes with Kia. Wasn't there a song called Alliah? Gonna have to Google that.
Dad drove us up Thursday, the 16th to pick her up. I want to give a big shout out to Shawn at Peter's Kia in Nashua, NH. He did a great job getting the car ready, all spiffed up and with a full tank. The paperwork was a breeze and he answered all my questions about maintenance and breaking her in. He was a pleasure to work with. If you live in the area and are in the market for a new vehicle and are considering a Kia, E-mail me. I'll hook you up with my man Shawn, the "referral incentive" has nothing to do with it of course. Wink. Honestly, I love my vehicle and would strongly recommend checking out Kia to anyone considering buying new.
Ahhhh - the smell of a new car. Nothing like it.
I read the manual cover to cover. I want to stay on top of all the maintenance and take good care of her. Do you know that I only have to get the oil changed every 7,000 miles? I had never heard of such a thing. I thought it was always 3,000 - 3,500 miles, no matter what. Just goes to show how much I know about new cars.
Freedom. Freedom to drive wherever I want, whenever I want, without the worry of breaking down and having to call Dad for help. Quiet. No rattling or creaking. I roll up the window and all the noise goes away. Smooth ride. My fillings are finally safe from potholes. The premium stereo rocks, I hear nuances in music I never heard before. My son is the one turning it down, for once.
I've done some research on SUV tents. They have a sock on them that attaches right to the back of the SUV. Throw an air mattress in the back and you've got a high & dry bed. I see a camping vacation in our near future. A real vacation where we get away from the house, first one in 7 years.
I know, I'm prattling on like a new parent.
I want to thank izchan, mydogischelsea, kfarmer, cicibug and of course, Magazine Man for your support and encouragement.
Most of all, I want to thank my Dad, for his unconditional love and guidance. Finally, he doesn't have to worry about me driving around in a shitbox anymore.
If you know anyone looking for a '91 Acclaim that needs
work,
I've put Old Reliable on Craig's List.